So, my reason for wanting to finish the three sweaters is three-fold. One: Having three sweaters to wear on the cruise. Two: To free up the ten million needles that are being held up on these sweaters. Three: So I can say I finished three sweaters in a month.
I know it's cheating (sort of), but isn't this exactly the sort of situation where having ten thousand UFOs is a good thing? I mean, how else would people knit three sweaters in a month?
As of yesterday, the Gold Bullion sweater is done:
And so is the Ribbi Cardi:
You can't tell in the picture, since I hadn't knit the collar yet, but I also fixed the sleeve issue.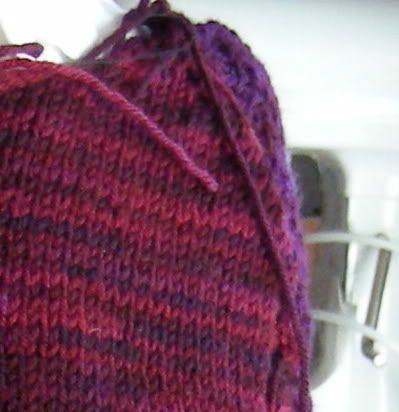 I took a piece of waste yarn and threaded it through the troubled area, undid the mattress stitch down to the bottom of the formerly troubled area, and re-seamed it using the waste yarn as a guideline. The whole process took about an hour.
So now, the Ribby only has good seams, and a collar that needs some steaming. It will RESPECT MAH AUTHORITAH!
The sweater that I am currently finishing is the Pinup Girl Rugby Sweater: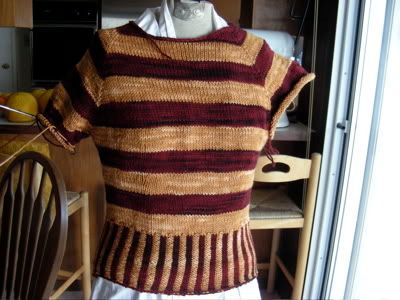 Cute, huh?