Saturday, Tika and I went to
Color: A Fiber Festival
on Saturday. The drive up to Cal was pleasant, with some discussion of musical theater, our mutual love of Little Shop of Horrors, and how Christian Bale and the whole "Santa Fe" scene from
Newsies
never should have happened.
When we arrived, we were pleasantly surprised to find that there was actual, free parking on the Berkeley campus within shouting distance of Color. First, we hit
Pidgeonroof Studios
, and bought roving. Then we hit
Tactile
/
A Verb for Keeping Warm
and bought roving. Then we hit
Girl on the Rocks
. And bought roving. Noticing a theme?
In keeping with Jasmin 2008, I only bought the stuff that I absolutely loved. Once the Roving Tornado had subsided, we sat down, set up our wheels, and enjoyed the day. Well, Tika set up her wheel immediately. I looked at my Victoria bag and saw this:
Nature. On my spinning wheel bag. Here is the picture to scale: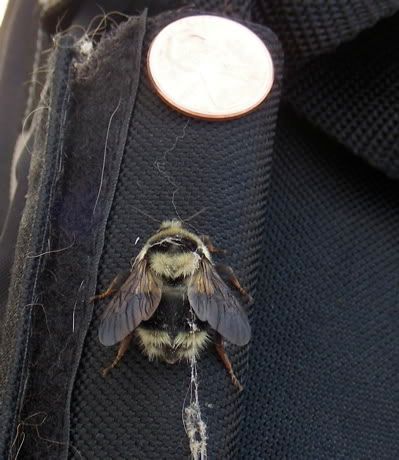 Given the niceness of the day and the weather I figured I would just relax and chat until The Bee went off on it's merry way.
I thought The Bee had gone on it's merry way (it was no longer on the handle). Without looking, I reached down to the zipper and -
MASSIVE, STINGING PAIN!!!
Ow. The Bee stung me. Stupid nature.
I washed my hands, took an allergy pill, and the day was not ruined. We spun there until early afternoon, and then drove to my favorite taco place ever.
It's a taco truck in Oakland, and for $1.25 one can purchase a taste of heaven. (FYI, it's at the intersection of International and the 880 ramp to Alameda.) Tika and I wolfed down three heavenly tacos each, and two sodas. All for less than $10.
The day was going super-well, so I suggested a trip to
the Great Bear
in Los Gatos for Chocolate Coffee Creams. Tika had never experienced the CCC before- and it was a great way to end that part of my day.
I've started spinning some of my purchases- which I'll post as I finish stuff.
(PS, if Krista tells you we bought everything, I deny it all. LIES!)