I am a terrible blogger. I let work get in the way of the blog. But, until this blog turns into a book deal, off to work I go. Part of what keeps me from blogging is lack of photos.
Until about a year and a half ago, this was a text-only blog. BO-ring! I find that I like reading blogs that have pictures better, and I don't want poorly lit, blurry pictures. I try to keep my photo quality high; I do decent work, and I want it to be an accurate representation online. Some of you readers don't see me in person, so what's the use of posting a crappy picture?
I normally try to take pictures when the light is good, which is increasingly challenging as the days become shorter. Still, I do my best.
I've begun plying "Wild Thing", which is now 75% superwash merino, 25% silk (for you who don't like math, that's 3 plies of the Crown Mountain, one of the Susan's Spinning Bunny Silk). It's a light fingering weight, which just means that I need to chill out when I'm spinning.
I'm still fixated on lace, but one of my projects is making me want to rip out my hair. I'm not going to go into detail, but how can SUCH a simple lace pattern require so much brainpower?! I have 8 repeats to go, plus edging. This is totally do-able. I just have to do it.
I was the lucky recipient of an Alison (yes, that Alison!) shawl. I think the yarn is Lisa Souza's superwash, in Valentine. The pattern is "Bigfoot", which is on my list of things to start. Photos of the shawl are pending. When I showed Mom the shawl I said, "MINE. You have your own Alison shawl."
I've been working on the Argyle 2 socks, which bleed like a mofo and turn my hands blue, but I'm down to the heel on #2, so those are almost done. A guy at the chiropractor's office commented on it.
"Wow, you'd think you came to the chiropractor to knit," he says, looking at my sock. Yeah, we'd been waiting for maybe 15 minutes.
"It keeps me patient," I say, "This whole sock has been knit while I've been waiting in different places."
He looks at the sock, and huffs at the tangibility of (what I like to call) "line-time". ("Line-time" is like the space-time continuum, but different. It's full of physics.)
"There's no getting around waiting; at the end I'll have a pair of socks," I said, feeling very Zen about the whole thing.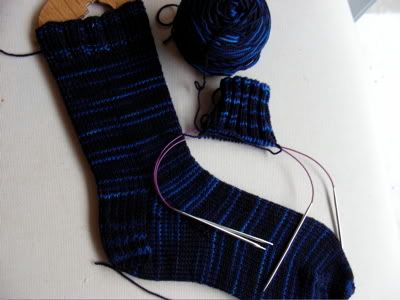 A few hours later, the earth shook below our feet (5.6!), and I learned that instant messenger won't crash when everyone is on it, but the phones will. After trying to get in touch with people by phone for an hour, I assumed my friends and loved ones were fine, and went back to watching TV and plying.
I'm all heart, I know.