Product: Royal Hare Superwash Merino Roving Top
Product Description: One braid of roving, either 100g or 4 oz(read below) in Calistoga Calypso
Bought from: The Royal Hare, Stitches West 2008
Price: $13/braid
Photos: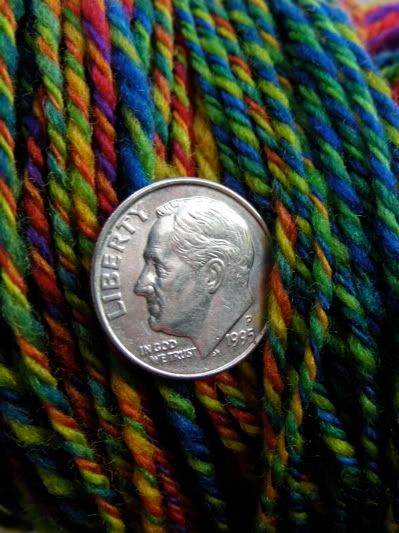 Comments:
The first thing that I noticed was that the braid I purchased was 3 ¾ oz, which surprised me, since most roving is put up in 4 oz bumps. However, upon discussion with Andrew, I checked it in grams, and it was 108g. Enough for socks, but I'm a little miffed over being shorted- since I specifically asked if the braids were 4 oz.
I really like how they dye their braids- in even lengths and weights so that if you're inclined to line up the colors when you ply, it's a little easier than Navajo-plying.
(I wouldn't recommend this way of doing your spinning if you're crazy OCD about your colors lining up perfectly. In that case, just Navajo ply. Or buy commercial yarns.)
The roving they use is pleasant to spin- not the nicest stuff I've ever spun, but a nice base roving nonetheless. The colors are very saturated and rich, which I love, and the yarn ends up just as vibrant as the roving.
With the colors as saturated as they are, I was concerned about bleeding. I was pleasantly surprised to find that there was minimal bleeding (slightly pinkish) water after a thorough soaking.
For the price and quality, it's a good buy, just make sure you're getting the right weight. I'll keep you posted as to whether this light bump was a fluke or if the others are light as well.
Stay posted for Part Two, where I discuss the wear and washing