Maybe I'm making a mountain out of a molehill. It turns out that having hot pink hair is awesome 364 days out of the year. On Halloween, I had a doctor's appointment, then went to the grocery store. In street clothes.
I had three separate people asked what I was dressed as. I was wearing jeans and a t-shirt. No makeup. Nothing special. The first time, I was confused. "I'm dressing as a rock star later... Oooh. No, I always have pink hair." The third time, I was still polite, just annoyed. Next year, I leave the house in my costume.
When I was pulling out of the parking lot, I saw a woman come out in a pair of galoshes (wellies?). I've always wanted a pair of galoshes, but the thing that really got me excited was the pair of cabled socks she had decoratively flipped over the top of an otherwise boring pair of shiny black galoshes.
You can understand how I am now on a mission to find the PERFECT pair of shiny black galoshes - and what are galoshes without a shiny rain slicker?
The last time I found a shiny rain slicker was in an Adult store. Silly me, it was just the right length for me (part of a sexy firefighter outfit, in case you were wondering), and I foolishly thought I would be able to find a better version of the same slicker. (Read "better version" as "not purchased from a seedy sex shop".)
So, I've been hunting around on the internet for my "perfect" galoshes. As if I needed more shoes, right?
So far, I've found the following:
Candidate #1:
Fabulous, right? So very pink! Alas, $103.50 seems a little high for a pair of Elle Woods-esque wellies.

Candidate #2:


Right price ($51.99), and while the plaid is pleasant, it's not as versatile as I would like. Alas.

Candidate #3:


Black, shiny(ish), but kind of ugly. And not that special brand of galosh-ugly I'm looking for.

Candidate #4: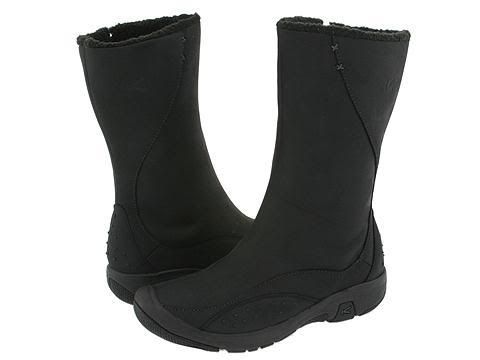 Keens! Alas, not the classic galoshes that I dream of, but (so far), the best suited to my tastes and needs. Also, nothing fits quite like a pair of Keens. (If you haven't tried a pair yet, do. They're WONDERFUL. Also, a little weird-looking, but clearly, I like that sort of thing.)

In short, I'll go try on the Keens (at R.E.I., my favorite place for practical footwear), and keep hunting for shiny, perfect galoshes.

(Let me know if you can find them, and where!)