I haven't been sleeping very well- Sleep and I have had a tumultuous relationship since I was in college. Sleep is my elusive mistress, if you will. For the last week, either my own poor judgment, or outside influences have interfered with my regular sleep schedule. I know that everyone is affected by lack of sleep, but I feel like unless you have had problems sleeping, you can't really understand the effects of chronic sleep deprivation.
Currently, the sleep deprivation is manifesting itself in an inability to focus, lack of appetite, and holes in my memory. The inability to focus is making work more challenging, not to mention that it's put a serious kink in my knitting. Oh, and the kicker of this whole thing is that I'm exhausted, but unable to nap.
Part of my sleeping problems are stress-related. My brain can't shut down because I'm still working through today's issues, and tomorrow's issues always follow. The other major problem is that it seems that my subconscious is very susceptible to suggestion. When I have nightmares, the line between "real" and "dream" disappears. The terror is palpable, the threats are real.
So, three nightmares in three days (with similar themes) tipped me off that maybe I should be watching (and reading) less Law and Order-y stuff, and more fluff and comedic stuff.
Last night, I was proactive about getting more sleep. I went to bed two hours early, and slept through the night (until Andrew's alarm went off). I had really awesome dreams, and had a gloriously restful night. When I woke up, the sun was shining, the birds were singing, and Zac Efron brought me my morning coffee in bed. Okay, maybe not that last part, but you're getting the gist of it, right?
Well, while young Zac Efron did not bring me my morning, Niki did join me for our morning routine. Since Andrew gets up an hour earlier than I do, he cuddles up next to me and we sleep for that extra hour. I've started calling him Niki the NyQuil, because snuggling with him works better than a dose of anything I've ever been prescribed for sleep issues. He also stays put as long as I stay in bed, more or less. Elphie will usually join us at the end, since she has dog ADD and needs "active" cuddling (versus passive cuddling).
So, I thought the sleep deprivation was why I wasn't motivated to knit. Granted, I have a thousand things mentally cued, and four projects that my fingers are itching to cast on.
But.
I have three projects that have to get completed for Christmas, and one of them is a large, predominantly garter-stitch project. Garter stitch kills my mojo. Last night, I finished the bulk of the knitting on the Top Secret project. I read the directions, and it appears that there is maybe an hour's worth of work, and then blocking, and it's done. Could it be a coincidence that once the unpleasant project is finished, I'm sleeping better? Possibly.
Next on my "obligation" knitting list are the two hats for my father, and my grandfather's aran scarf. My father's hats are super-easy, so those won't take any time, but my grandfather's scarf is… challenging.
I love cables, but somehow, knitting cables is harder for my brain than knitting lace. I also chose something more challenging because, well, I'm a show-off. He was so thrilled with the relatively simple cable and seed stitch scarf I sent him four or five years ago, that Mom's upcoming trip spurred the need to do another one. I've managed one of ten repeats- so I've got quite a bit of work ahead of me.
There were some initial problems with this scarf- mainly user error. Evidently, I can't count. Not shocked? Neither was I. Once the initial error had been resolved, it moved more quickly, but it still doesn't move as quickly as I would like.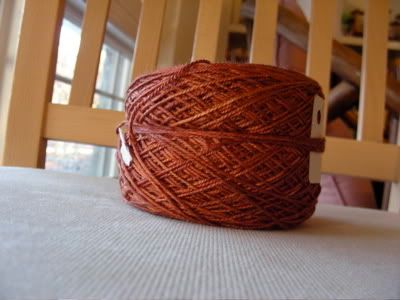 On my list of items to cast on, I have the Juno Regina shawl from Knitty, which I am going to knit out of my Pumpkin colored Sea Silk (shown above), and the Clapotis out of the Tess Yarns cultivated silk and wool in "Banana Split". I'm hoping to get Juno Regina to the "mindless" stage by the end of the weekend, and Clapotis up to the intended width soon after that.