Some women are really invested in all things Bridal. Not me.
When Andrew and I decided to get married, I wanted to elope. Andrew wanted a wedding. As a compromise, I said I would agree to a small wedding, but I wouldn't plan it. This worked for us.
Here is one of our wedding pictures, which has a full body shot of the dress: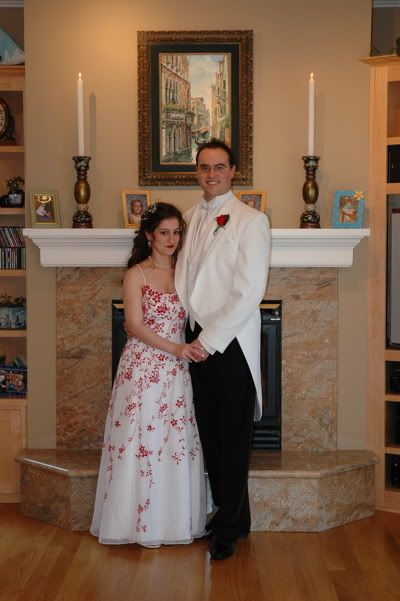 I bought the dress on a whim while I was out in South Dakota, doing my internship at XRX. It was $10 and my size. I wore it when I got back, for our third anniversary with the most awesome red shoes.

When my wedding dress fell through the week before the wedding, I had no reason to worry; I had a white-ish dress. We had a very intimate wedding, 53 people total, including our immediate family, closest friends, and our officiator. Everyone had a good time, and we both managed to chat with every guest.

The total cost of the wedding was under $2000. That would include the dress, the tux, the photographer, food, cake, everything. For one big party, that's not bad. Especially since the phrase "But it's my SPECIAL DAY!" never crossed these lips. A big wedding is on the list of things I decidedly did not want, and since we paid for it, we weren't obligated to invite anyone or do anything that we didn't want to.

Now, honestly, I didn't really care for the dress when I bought it. I was overwhelmed by the killer trifecta: Sale, my size, and poor impulse control. The same day I bought a black and pink dress and a black and pale blue dress. When we decided on the backup dress, this dress was chosen because it was white.

I think it was intended for some sort of spring formal purpose- the fabric was all right, and the construction was solid enough, but this is not the wedding dress that you pass on to your kids, really. It's the equivalent of passing on a polyester leisure suit on to your son to get married in- the future child is unlikely to want it. If this had been something that my mother had made, or a vintage dress, I would have kept it. Not so much with this dress.



My solution is this: See the pearls in the picture above? I'll save those. They're exponentially nicer than the dress will ever be, and I wear them at least once a month. I've taken good care of them, and I bought them because I loved them. Though I lack the attachment to the dress, I love these pearls.

I suppose the biggest part of not saving the dress is that I don't want my daughters to dream about weddings and getting married as children. I wasn't a little girl, young woman, or adult who had a dream wedding- unless eloping to Vegas is considered a dream wedding.

I think that there are more important things; getting an education, finding your path, and developing the relationship that leads to a lifelong commitment. I've seen marriages fall apart because the wedding eclipsed the relationship, which is a travesty. I'd rather have my daughters dream of using my lucky briefcase, getting an amazing piece of my jewelry, or inheriting my winter-weight Orenburg shawl.

After all, every girl should have an Orenburg shawl.