Christmas is over. I kicked "It" squarely in the ass. I give you, two completed hats for my father:
It is unkind to take pictures of people without warning them ahead of time. That's why Sinead, my glass head, is posing in the hat. My father looked exhausted in the pictures.
The pictures that follow are "au natural". You've been warned.
Andrew had a Trek-alicious Christmas; I got him four of the eight Star Trek Micro Machine collections.
Though I was not surprised, I think you can tell that I loved my gifts: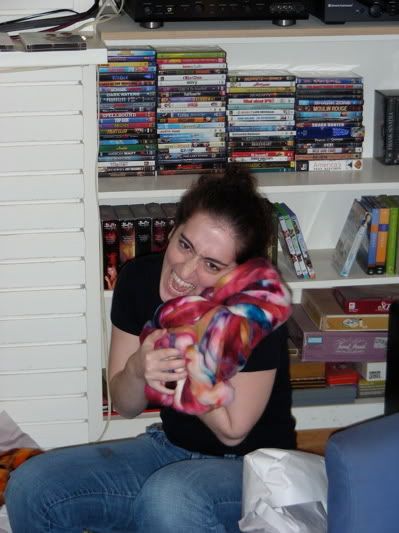 Nothing says 'I love you' like wool. Luscious, soft, handpainted, superwash wool from Crown Mountain…
…in quantities.
The dogs had a good holiday, too. But the pictures make them look bored.
The highest point of our Christmas season: The ornaments that Colleen made me. They are snowman approximations of me, Andrew, and Mom. The resemblance is uncanny.
N'es pa?