For a month or so, I've been in a knitting lull. I haven't been knitting as much as I normally do, and I've been a little unenthusiastic about it as well. Everything I really wanted to work on was on hold because of something small.
Jasmin 2008 reappeared yesterday. She must have been on vacation this last week, but she's back. I figured out how to knit the sleeves on my Ribby Cardi top-down, and I am nearly finished with BOTH sleeve caps.
This is simple, but the task makes me feel incredibly smart, and my sleeves always end up the right length. Having short arms means less knitting, but more thinking. It's a trade-off.
I like to knit my sleeves at the same time, partly because in the event of Project Abandonment, both sleeves will (optimistically speaking) get finished the same way. I also like to knit my sleeves in the round to minimize the finishing.
The zipper has been bought, and once the sleeves are done and attached, Mom will be able to attach it and BAM! The sweater is done. I think that's enough motivation to actually finish it.
I'm pretty excited about finishing a sweater- I don't think I've finished a sweater in the last year. Half a dozen lace shawls, yes. Sweaters? No. I've also given away all but one of the sweaters that I've knit for myself.
Its funny how we evolve as knitters; ten years ago I was knitting six pairs of socks a month. Five years ago, I was knitting two pairs of socks a week and finishing a dozen large projects a year. Now, I'm spending more time spinning than knitting.
Sweaters don't really take that much time; most of the sweaters I knit are out of worsted weight yarn. Even a sock can seem interminable- or maybe that's just in my case, when I'm knitting Andrew's giant socks.
Speaking of which, I finished off Pair #4 of the Black Sock Project on Friday night:
Once I finish Pair #5 of the Black Sock Project: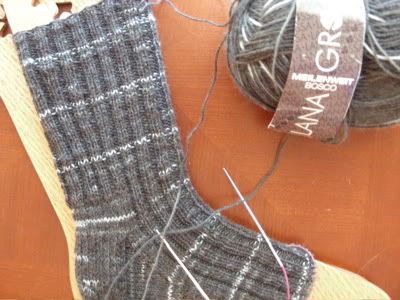 Andrew has requested that I begin the "Tan Sock Project". My love for this man may be without limit.