I haven't paid much attention to Lancelot, my Schacht, since the pre-moving madness, but I had begun spinning some undyed tussah silk.
I felt a certain sense of urgency to finish it, since there is other stuff I want to spin, and I am planning on dyeing it.
I'll be honest; I don't really like spinning silk. Silk blends, yes. Silk-silk? Not so much. I also don't really care for spinning "natural" colored roving.
But, I'm nothing if not goal-oriented, so I plowed through the last of the spinning and the plying, and skeined up the silk, and...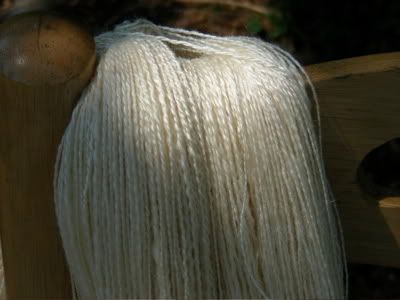 It SHIMMERS!
I'm * almost * feeling a twinge of doubt about dyeing it, but I know that the dye won't compromise the shimmer, and the lovely, warm, honey tones will come through whatever color I decide to make it.