Yesterday, the MOTPS made the trek up to
Full Thread Ahead
to hear Stephanie Pearl-McPhee [the
Yarn Harlot
] speak, and to get our books signed.
Andrew was a champ. Here's how the day went:
2:00 PM: Andrew drives up to FTA alone, to get us signed in.
4:15 PM: MOTPS pile into Colleen's van, and drive up.
4:45 PM: We get there, claim our seats, and half of us go to Jamba for refreshments.
5:00 PM: Hollis does a few contest-y things. Andrew got to stand for three of them. He feels that he is an accomplished knitter now.
5:30 PM: Stephanie comes out to the podium, there is a roar of applause and cheers, and this: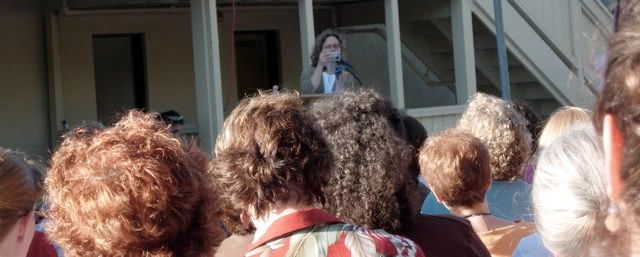 I'll admit, I was a total dork. The dorkiest, even. I took her a Space Bag, the miracle invention that allows Andrew some storage space in our house. Every knitter should know and love the Space Bag. When Stephanie pointed out that they can't get plus-sized Ziploc bags in Canada, I stood up with pride, shook out the Space Bag and ran it up to the front for her.
Andrew said her expression was either shock or that she had seen the Holy Grail of yarn storage solutions. I'm going with the latter.
After the talk until 8:00 PM: Dinner at a sushi joint.
8:00-10:00 PM: Hanging around, chatting with knitters until the line slows down for signing. The MOTPS were second to last in line.
In a moment of temporary panic, I considered running out of the back door. I am such a huge fan, that I was overwhelmed for a moment.
Anyway, in classic Jasmin fashion, I admit that I am totally stalking her. In a good way. I suppose "SuperFan" may have been the more eloquent way of saying it, but Stephanie took it with good humor, and even took a picture (with the sock!) with the MOTPS. She had the misfortune of having to crouch in front of the three shortest MOTPS, and having to hold the crouch until the picture was taken.
Stephanie, the MOTPS love you, and next time you're in town, we should have beer. Or Shanty's. Or margaritas.
Oh yeah, and in true SuperFan form, here you go: