Nobody can embarrass you like your loved ones. This is a thing of fact. Your loved one(s) [this includes your knitting group, in my case the Minions of the Pointy Sticks] know about all of your skeletons, and most of all, what you are singularly horrified of the world knowing.
Andrew was walking the show with me, and we went to
Lisa Souza
's booth (a regular place we love to shop, both at shows and over the phone). Here's how it went:
Jasmin:
Hi Lisa! How are you?
[Andrew, Lisa, Rod and I chit chat for a few minutes.]
Andrew:
Hey Lisa, do you remember the yarn you dyed for that sweater for me a few months ago?
Lisa:
Yes.
Andrew:
Wouldn't you like to see it finished?
Lisa:
[catches on to Andrew's evil scheme]
I would
love
to see it finished.
Andrew:
I bet you would like to see it finished by next Stitches.
Lisa:
I would!
Jasmin:
[Turning all shades of mortified red and purple]
I cast it on…
That's right people. Andrew brought up an UFO in front of Lisa and I was shamed. I'm sure she doesn't hold my UFOs against me, but I was embarrassed that I hadn't finished the sweater from all the beautiful silk/wool she dyed especially for Andrew- at my request.
Here is how far the sweater has gotten,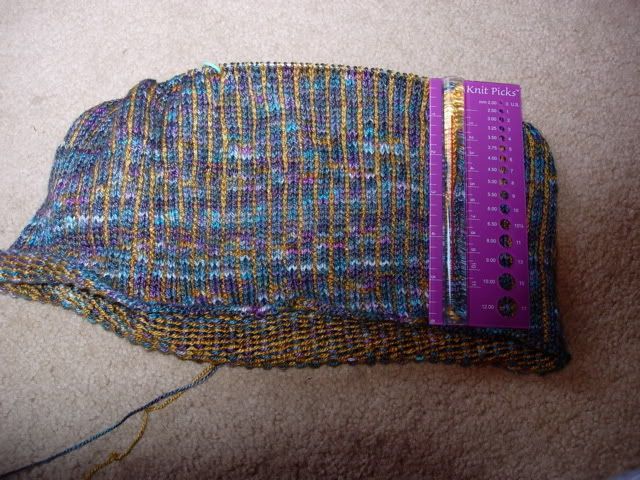 and I only have 156 days until Stitches West.
I better get crackin'.