For my birthday and Christmas gifts, Andrew is giving me 21 bumps of Crown Mountain Superwash merino roving. If you've been reading the blog this last year, you've seen bump after bump turn into yarn, and eventually socks. When the new colors went up, I used every last ounce of resistance that I had, and when the Minions ordered theirs, I did not order a single bump.
Two days later, while I was driving home, I was listening to Lime and Violet, and they were talking about doing a co-op order. The Minions had placed an order large enough to get halfway there- mine would get us to about 80% of the total. I got on the phone with Klaus IMMEDIATELY, and got working on what we needed to do to qualify for the co-op pricing.
I'll say right now that I think he's much more accommodating than I would be (in his shoes). I made it easy for him, and placed one giant order, had him ship everything to my house (or headquarters for the local wool cartel), did some math, entered it in a spreadsheet, sent e-mails, and played wool fairy. Playing wool fairy was the best part.
Getting back to the topic at hand, at some point this last year, my two-ply became too thin to (realistically) knit socks with, so I transitioned over to 3-ply. 3-ply yarns are rounder and look more like "real" yarn. It made the color transitions much more subtle, which is different (not good or bad, necessarily), and I think that the 3-ply socks are wearing a little better.
My last bump of Crown Mountain (Wild Thing) turned into a light fingering weight. That's three plies of the wool and one ply of silk. I have shown myself that I can spin very fine yarn. The sick thing is that I LIKE it. It looks even real-ER than just 3-ply.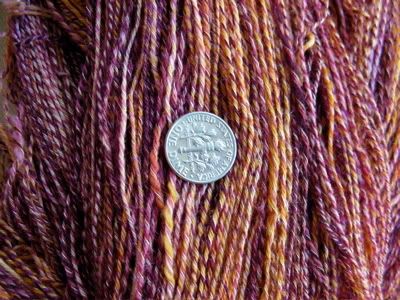 I've been spinning the Twist and Shout at that same, very fine weight on the Victoria, and I started a sweater spinning project on the Schacht.

(One ply of the Twist and Shout)

(This is the roving for the sweater.)

By force of whorl and will, I think the yarn for that sweater will be a light worsted weight 3-ply.
Here's the question: Now that I have better control of how my yarn comes out, should I spin it a little thicker and 2-ply it, do a slightly lighter 3-ply, or continue on with my current insanity?
I worry that if I change what I'm doing, I'll look back on the yarn and be annoyed that I didn't do the other two options, because CLEARLY those were better ideas. I have AMAZING powers of hindsight. With the generous 8.5 ounces, I could do both. It just requires a little more math.
You know how I love the math. There may also be an Excel spreadsheet, for added nerd points.