On Saturday, we celebrated my 25th birthday Minion-style: we went on a ROAD TRIP! After a fair amount of haggling and wrangling, we ended up with a Christian Youth Group style van (seats 13) for a song. (The best part about renting this van was seeing people's faces when I was driving it. I look about 14 without makeup, and here I was, commandeering a land yacht.)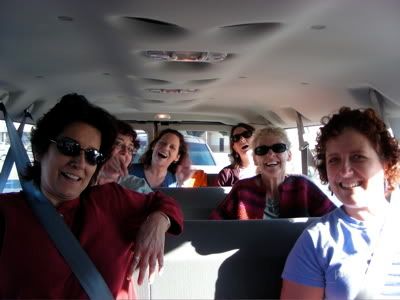 See how comfy everyone is? They had to be- to get to Sacramento, it's a 2 ½ hour drive each way.
You might wonder why we would choose Sacramento- I would, too. Franklin Habit was there doing a shoot for his 1000 Knitters project. How cool is that?! The Minions were all good sports, and the ride up and back went as smoothly as anything could. (Well, it could have been a smoother ride. Colleen may have caught some air after we hit some of the bumps on the freeway.)
We got to Sacramento around noon, found the building where the shoot was scheduled at and went and had lunch at a terrific Mexican restaurant. Not only was the food great, but you could order ceviche by the POUND. I did. It was glorious. Then, by some act of evil Minionage, this happened.
Sombreros. Singing. Startling. When I find out who did this, there will be a proportionate response.
We went to the shoot, and Franklin charmed each and every one of us. I didn't know that most of the Minions don't like to be photographed, but evidently, he managed to immediately put everyone at ease. As always, we have a shot of the Minions with Franklin, and Franklin with my sock.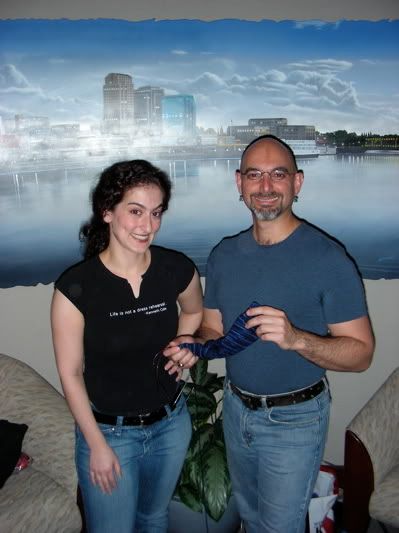 I have to admit, I was completely uncool. I was so star-struck that my brain just froze. Franklin asked what the yarn was, and my brain went BLANK. I stammered. I don't STAMMER!
I looked at the yarn, and I started talking. "She has a 'C' name… She does that wonderful silk…"
Finally, Mom saved me with "Claudia?"
"Yes! Claudia!"
Ok, I can remember where, when, and how much I paid for yarn. I can usually tell you the yardage from memory. I may not know what today's date is, but I KNOW my yarn!
All-in-all, it was a pretty terrific 25th birthday celebration.
[Here is a shot Rachel got of me during the 1000 Knitters shoot:]