I like to organize shindigs. I'm an organizer and a list-maker, and I like to par-tay! I invited a handful of Minions my annual Holiday Extravaganza. So, here was my day:
6:45- Alarm goes off after about 5 ½ hours of sleep. Wish for a swift and immediate death. Immediately regret both the department party and the annual in-law dinner the day/night before.
6:55- Get in the shower. Panic that the party will suck, vow to never throw another party.
7:15- Get out of the shower. Get dressed.
7:20- Notice that Linda and Mom are wearing makeup. I blow-dry my hair so that I don't look like a wet rat.
7:30- 8:30- Run around the house trying to get stuff together, get a hold of late people, tell Katie to meet us at Starbucks.
9:00 – Assure the dogs that we are coming home, go to Starbucks.
9:15- 10:30- Gift exchange.
[Lots of excellent gifts were given, and mine was the best.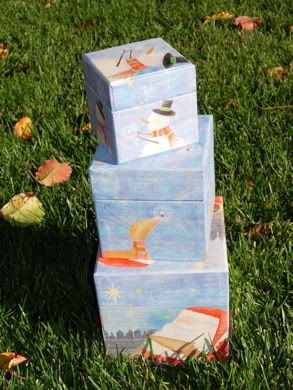 I got this:
(It had chocolate in it... but not for long!)
and this:
and best of all, these:
that go with this:
I hope Colleen draws me EVERY year. Muah ah ah!
10:30- 11:15: Drive to Carolina Homespun.
11:15- Park, walk to 755 Lisbon St. Knock on the door.
11:17- Katie points out that the address is 455 Lisbon St.
11:18- Decide to walk the three blocks to Carolina Homespun.
11:25- Mom has an asthma attack from walking uphill in freezing cold wind.
Here is the view from the top of the hill:
11:26- I feel guilty, and walk the rest of the way with her, making sure she doesn't die. Simultaneously feel like a dumbass for not thinking that walking in SF would be more challenging than in SJ.
11:30- Arrive at Carolina Homespun.
11:30- 1:00 PM- Shop. Cynthia bought a wheel, and I got a SCHACHT!
1:00- 1:45- Drive home, eat lunch
3:00- Decompress, nap.
4:45- Light the Hanukah candles. Erica sings.
5:00- Donna arrives. There are massages and Christmas music.
11:00 PM- Party is over.
11:00- 12:30- Cleanup, go to bed.