Last Friday, we attended
Dirty Rotten Scoundrels
. I was so very excited when AMTSJ announced that they would be hosting the tour. I bought my season tickets * right * away. This show opened three weeks after Andrew, Grace and I were in New York.
Grace and I were devastated. (Well, not quite, but we were disappointed.)
Norbert Leo Butz
and
Sherie Rene Scott
were performing in it. With
John Lithgow
. (No knock against John Lithgow, but we were more excited about the two stars of
The Last Five Years.
)
Fast forward two years and change. The family loads up into the Prius, and CPA-ward we went. For once, I didn't read the cast bios before the show started.
Sam was reading through the playbill, and was surprised that there was a Rocky Horror Picture Show musical, and more surprised that the man who played Dr. Frank 'N' Furter was starring as Lawrence Jamieson.
"Tom Hewitt!" I exclaim. (This is where Sam called me a nerd. Possibly rightly so, but that's not the point.) I then tell Sam that he was in
Dracula, the Musical
as well. Sam may have called me a nerd again. I say, Judge not, lest ye be a nerd, too.
Tom Hewitt did a delightful job, as did Laura Marie Duncan (the gal who played Christina Colgate). D.B. Bonds did a fair job playing Freddy Benson, but lacked stage presence. He was appropriately crude, a little slap-sticky, but during "Great Big Stuff" (my favorite song in the ENTIRE show), it just lacked the oomf that Norbert Leo Butz had on the Tony's.
During the show I finished these: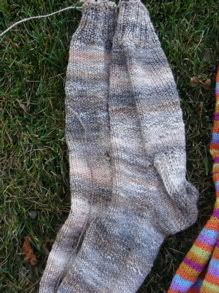 (Do You Believe In Magic, handspun by me, knit by me, for me. Andrew's are done already.)
And did the cuff on sock #2 of these:
(Regia Africa. One of the colors, the tag is AWOL.)