Today is Andrew's birthday. Andrew and I have been together for more than five years, and in that time, I've learned that there are so many things to love about him.
This is my favorite picture of him: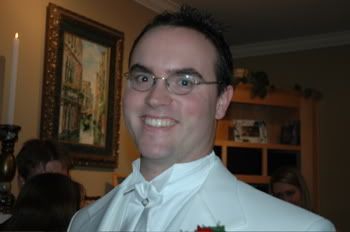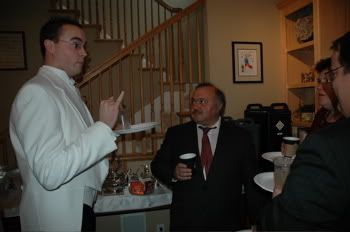 (Ok, two favorites.)
Andrew is the most supportive person I have ever met. No matter how off-the-wall or unrealistic my schemes are, Andrew is supportive and actually tries to help me get from point A to point B.
When I went through my stash re-organization (upon my discovery of Space Bags), Andrew and I spent the better part of a few weekends moving stash, organizing stash, and getting rid of stuff I no longer wanted. We work really well together, and he is the best partner I have ever had.
With my interests and hobbies, he is engaged and asks questions. When I knit something complex, he asks intelligent questions and is sincerely interested.
When I'm sick or cranky, Andrew takes care of me. He is just genuinely thoughtful.
He is responsible, reliable and grounded. He is also silly and incredibly easygoing. He always smells good, even when he's got the man musk / yeti thing going on. He has embraced my friends and family.
He's a trekkie who loves philosophy and recycling. He is the hardest person in the world to shop for because he's a less-is-more kind of guy.
He's such a less-is-more kind of guy that he even rejects unnecessary organs- his New Year's resolution must have been to get rid of an organ that wasn't pulling it's weight. Useless appendix.
He makes himself available to everyone, and he's always willing to forgive and move forward, no matter how undeserving the person is.
He's terrific. And today, he's 28. Happy birthday, Monkey!