As previously promised, some pictures of the completed (and blocked!) Juno Regina shawl: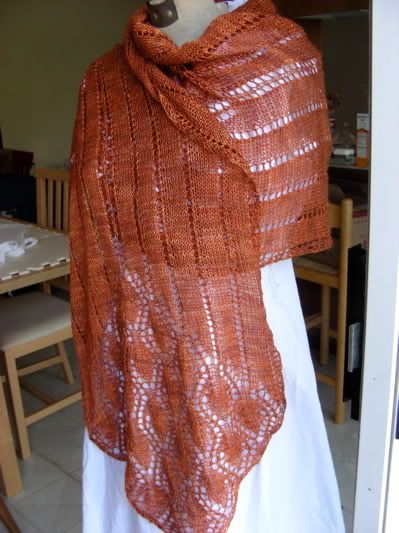 (Ravelry details here)
Pretty, isn't it? While we were [up too late] blocking Juno, Andrew announced that it was his favorite lace shawl so far. (He says this, very sincerely, about every lace shawl while it's being blocked. Sweet, isn't he?) I really liked knitting her. Maybe I'll host a Juno party, where we all knit on Juno Regina and watch
Juno
. Just an idea.
The Shetland Triangle is almost done. Really. All I have left to knit is the edging, bind off, and block. I think I'm definitely going to do a little beading on the edge. It adds the slightest bit of weight, a little shimmer, and a "fidget". (I like to feel the beads on the edging of
my Lily of the Valley
.)
For your enjoyment, here's an artsy shot of the Shetland Triangle. It's an artsy shot because shooting dark yarn and unblocked lace is incredibly hard, and frankly, this is the best shot (out of the fifteen I took before giving up):
(Ravelry details here)