So, this last week or so has been pretty long. I don't like to use the blog as a complaint forum (Hello? That's why I have a knitting group!), so I apologize if this sounds like a litany of woes.
Saturday (10/13) we attended a 75th birthday party for Andrew's uncle. We drove all the way to Grass Valley, and stopped at two incredibly underwhelming yarn shops. In Sacramento, we went to Rumplestilskin, where I bought an out-of-print book. That was it. They had some boring yarn and disappointing roving. The up side was that Andrew got a good look at what a Saxony-style wheel looks like, and I think my next wheel will be a pretty Saxony.
In Grass Valley, we went to a very "stylized" yarn shop, where I wasn't enthused by any of the yarn, and left without buying anything. The fun side of this was that I managed to talk my way into a "closed" yarn shop.
The party was interesting; there's nothing like family to make you appreciate your friends. I wasn't really keen on the seven hour round-trip, but it was better for us to come home and sleep in our own beds and rest on Sunday.
Andrew and I both got pretty sick after that, and spent the better part of last week sick. As we both started to feel better, we decided to go and clean out the townhouse. When I went to gather the cleaning supplies, I noticed a stream of water coming from the water heater.
Fortunately, the home warranty is covering most of it (the expensive part), and we were only without hot water for two and a half days.
I've been actively updating my Ravelry page (I'm "cuteknitter"), so that means there are more photos for the blog as well.
In doggie news, we discovered last night that Niki has lost his ID tag with his name, address, and our phone number. Elphie's is firmly in place, but somehow Hairy Houdini managed to lose JUST that one tag. He still has his "I'm microchipped" tag, rabies tag, and the tag from the rescue. But still.
We've been doing some extra obedience and dominance work with Elphie, which has drastically improved her behavior.
As far as my crack-tastic dreams are concerned, I dreamt that there was a wasp-feeder in our house (like a hummingbird feeder, but you know, for wasps), it was at the top of the vaulted ceiling (which we don't have), and they were the size of Iranian cockroaches.
For knitting content, I'm working on a bunch of socks, my Ribbi Cardi is currently a Ribby Halter, and I pulled yarn out of my stash to cast on the Tangled Yoke Cardigan.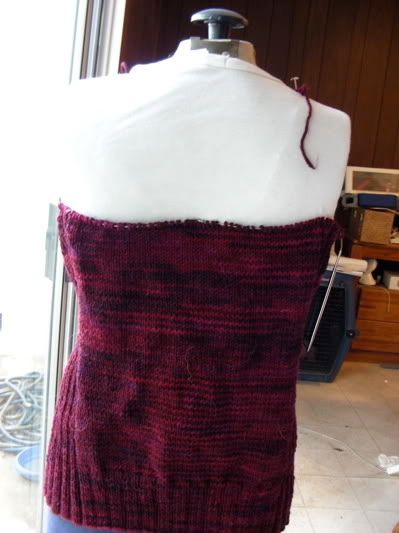 My spinning has been going slow, but that seems to be the consequence of spinning singles that (when 3-plied) are a light fingering weight. It's not good for my project ADD, and I MAY be doing some slightly self-defeating things along the way. Like weighing my bump before I start, and at the end of a disk of Six Feet Under (ahem, 3-4 hours), and noticing that I've only spun 6 grams. Andrew is discouraging the weighing. I can't help it. I need to see progress.
Here's the finished Big Yellow Taxi: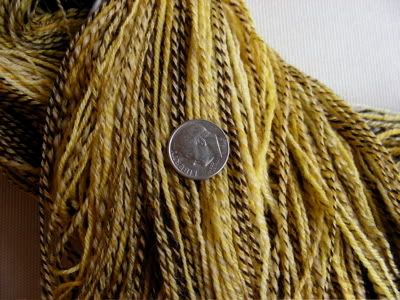 Here's the Wild Thing: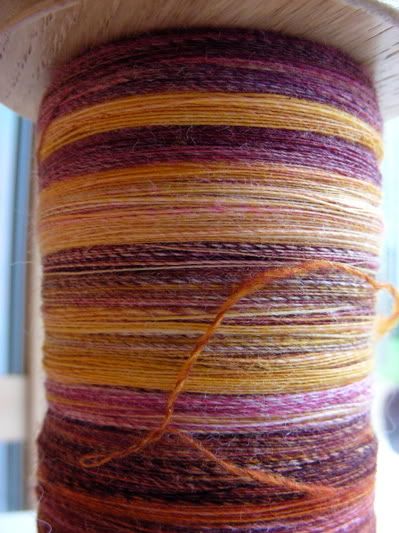 So, to leave you on a more positive note, I got moved to an awesome cube at work, which is bigger than my last cube, gets natural light, and has a view of the window. It has improved my mood something fierce, and I'm not dreading coming into the office anymore. I still hate traffic and EVERYONE who drives on 101.
Except for you. Y'all are awesome.