So, this whole spinning thing I'm doing is very Zen for me. I can just sit quietly, disengage, spin and chill out. I've been having a really good time with it, and mom brought all this fiber-y goodness over for me to spin: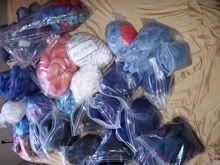 Please excuse the bad lighting, but it's getting dark very early, and I haven't quite gotten the hang of taking all my pictures over the weekend (when I'm home during daylight hours).
Andrew, Mom and I had tickets to see The King & I. Before we left for the show, I was talking about how I was planning to wash the Love Me Tender socks, and at first I thought that I would designate them as HAND-WASH only.
(I do this, in theory, by seaming with red yarn. However, because I work too many hours and too hard in general, I don't make hand-wash only socks. I have a life, after all.) Then, in classic Jasmin form I said, "Ah, forget it. If they felt, they felt. I'll know it then."
Cynthia, aghast that I would even consider it, looks at me shocked. I say, "What? Now you're going to tell me that I need to respect my work more and that I don't deserve to knit with my handspun because I don't respect it?"
Cynthia laughs and says, "That's EXACTLY what I was going to say." I think we may be spending a little too much time together. Not a bad thing, though.
I knit the better part of my first handspun sock (Love Me Tender) during The King and I, which was wonderful. (This is refreshing, because Sweet Charity was good, except for Molly Ringwald who, being the lead, was always on stage. Blarf.)
It was quite seriously a LONG show. I knit all but the 2" of ribbing at the top and the last 2" of toe during the performance- and I could have done the whole thing there, except that I don't like picking up stitches in the dark and there was only 10 minutes until intermission. Needless to say, we got home late.
I leave you, with some Minion-y shoe goodness: