Did anyone else catch Catherine Zeta-Jones' performance from "A Little Night Music" on the Tony Awards? Granted, I didn't get to watch it until earlier this week (yay, DVR!!!). When I did, I found her performance (to say the least) distressing.
First, let's start with her Norma Desmond-esque nose flares and patented Crazy Eyes. She even had it on the red carpet. See: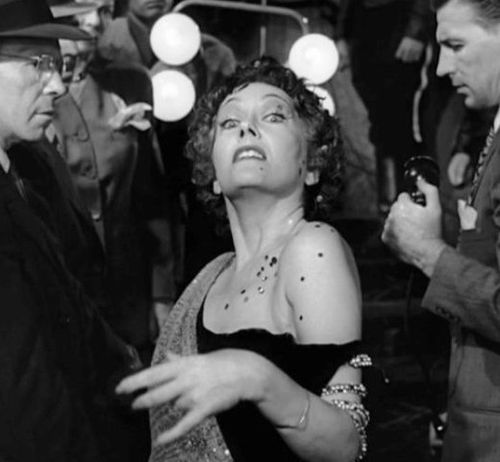 Practically twins. I wish that was the most upsetting part of her performance, but alas, CZ-J continued to butcher Sondheim like she was preparing his work for a dish in Sweeney Todd. The abuse of dramatic seizura was particularly Shatner-esque, but lacked the charm that he had as he originated the. Dramatic. Pause. (See? Not cute.)
On top of that, she was twitching like an epileptic chihuahua throughout the song. Initially, I had hoped that she was searching for a camera to sing to, but when she closed her eyes and continued to flail, I lost hope. If I was a doctor, I would have been reaching for the
phenobarbitol
. I'm not a doctor, nor do I play one on TV, so sorry Catherine- you'll have to hit up your HMO.
What *killed* me is that, time after time, "famous" actors (from TV and film) took home the Tony Awards over the folks who - in my opinion - had actually earned their nomination, rather than their big names. I understand that big names draw crowds to the theater, and without seats being filled, theater will die.
Do I blame the American Theater Wing? You betcha. Sure, nominate the famous people, but when Denzel Washington couldn't remember *who* was giving him the award, I was agog. I'm sure he was brilliant in "
Fences
", but really? Denzel isn't winning any Emily Post awards, that's for sure.
In case you haven't seen it yet, and are in the mood to writhe on the floor screaming "STOP!", and wishing that someone *would* send in the clowns to haul her offstage, here you go, but don't say I didn't warn you: