Event:
Julius Caesar
-
Shakespeare Santa Cruz
Cost:
Our tickets were comp'ed, but
you can buy tickets here
. (They range from $13-$48.)
Photos: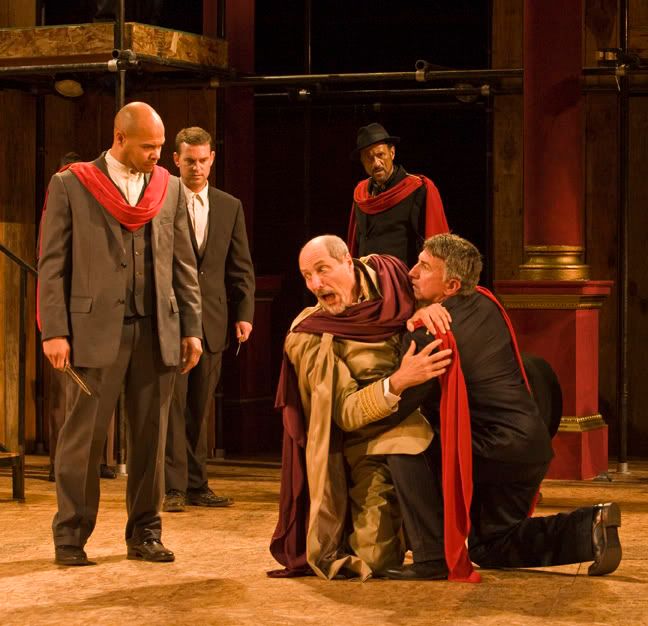 Chris Butler (Cassius), Aaron Walker (Cinna), Matt Gottlieb (Caesar), David A. Moss (Casca), and Scott Wentworth (Brutus) in SSC's 2009 production of Julius Caesar.


Photo: R. R. Jones
The Review:
In order to be totally honest and forward with my review, I have to admit that we finished watching HBO's "Rome" about two weeks before we attended Julius Caesar. It feels a little tawdry to say that the Bard is competing with HBO, but let's face it. With the "All Roads Lead to Rome" special feature on, Andrew and I learned all sorts of interesting historical tidbits, along with the ... historical interpretation that HBO did.
We saw the play with HBO-colored glasses on. Neither Andrew or I had read Julius Caesar (somehow, in school I read Hamlet five times, Taming of the Shrew thrice, but never Julius Caesar), so we went in with a blank slate. With Shakespeare's work, this is sometimes good, and sometimes... less good. In this case, we already had a peripheral knowledge of the storyline and characters. We all know how this play ends, so I really don't need to do a spoiler alert, right?
Let's start with the basics: minimalist staging and modern dress, which I really like. There is also nothing that compares to sitting in a grove of redwood trees, watching excellent theater, bundled up and snuggling with your date.
Saying that the writing was excellent seems foolish, so let's focus on the actors- which are what really makes or breaks the performance of a classic work. Julius Caesar was played by Matt Gottlieb, who was particularly commanding in the role, but when playing across from Calpurnia (Emily Kitchens) there was a genuine softness that really speaks to the talent of the actor.
The other really standout actor was Scott Wentworth, who played Marcus Brutus. Wentworth boasts a beautiful baritone voice that carries across the glen with no need of amplification, and an enviable acting range. The audience follows along through his good intentioned beginning (to take down a tyrant) through the reality of having slain his friend, to his own tragic end.
Despite the fact that the histories are not my favorites of Shakespeare's work, I would still give this show two thumbs up. The acting is stellar, the setting is divine, and watching well-performed classics is always enriching.