I'd like to start his post by saying that I don't like chickens. I don't like that they peck or flap, and to be completely honest, I don't even really care for the flavor or texture of their meat. I may also suffer from a bit of
alektorophobia.
I am, however, a huge fan of chicken stock/broth and eggs. (Not together.)
I would also like to make it clear, that this is NOT a political statement; it is just a personal epiphany that I'm sharing.
While at knitting on Saturday, somehow the subject of chickens, eggs, and the treatment of animals in industrialized food came up. (We have a very deep and knowledgeable knitting group.) I think that the subject came up because of an episode of Bones, where there was a murder connected to a cage-free chicken facility.
Andrew and I had watched the episode together ("
The Tough Man in the Tender Chicken
") not long after we had
an argument
a civilized discussion about why we were paying twice as much for free-range eggs as we were for cage-free eggs. And for that matter, why we were paying twice as much for cage-free eggs as we were for regular eggs.
Free range eggs cost 5 times as much as regular eggs, for those of you who are comparison shoppers. I do not share the
Cordelia Chase
philosophy of "I don't want it because it's more expensive, I want it because it costs more." There needs to be a good reason to pay more.
I couldn't tell any difference in the flavor or quality of the eggs, and I felt like it was a waste of money. (After all, I eat a lot of eggs.) Andrew, who was in charge of egg-collecting for his mother's hen house lo those many years ago, felt differently. For the record, Andrew has no love of chickens, either.
Andrew
argued
asserted that it is wrong to keep chickens in cages, and I have come to agree. Unlike with dogs and crates, where a crate isn't considered to fit unless the dog can easily turn around in in and lay down comfortably, there is no such standard for chickens.
While I don't care for chickens, I
do
love dogs, and the idea of stuffing an animal in a crate to live out it's life until slaughter is abominable. Especially a crate that is too small.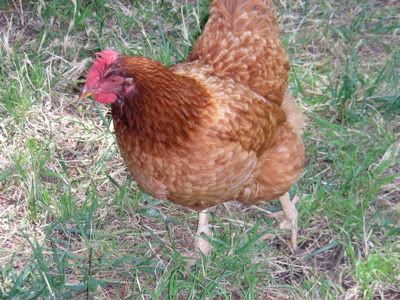 A chicken, free-ranging around the Retzlaff Winery. It's probably a wino, but I would be, too, if I lived there.
Back to
Bones
. They showed cage-free chickens, and it was chickens moseying around (as best as a chicken can mosey when kept wall-to-wall). I pointed out that while this wasn't ideal, it also wasn't terrible. (It's a gross episode, and in a
Fast Food Nation
kind of way.) That's when Andrew pointed out the difference between cage-free and free-range.
To be honest, I didn't really think about it after that. When we were talking about industrialized chickens, Laura'nge talked in depth about the conditions. It made me ill.
Usually, I just move on and think about other things, but the conversation stuck with me. I thought about it all night, and into Sunday.
So, here is my (albeit predictable) decision: we will be buying free-range eggs. Not because they taste better, not because they're more economical, but because it's the right thing to do.
...And I don't want to keep chickens. Just like how I have agreed to not bring home dirty fleeces, Andrew has declared that we will never keep chickens. It may have been in our vows.