Hi all.
I know. You're thinking, "How was the cruise, Jasmin?"
Poorly planned. I would go into the details, but that would make this post intensely negative, and frankly, boring to read. Sadly, I can not recommend going on any future Sea Socks cruises. Really.
But.
Alaska was beautiful. You should totally go.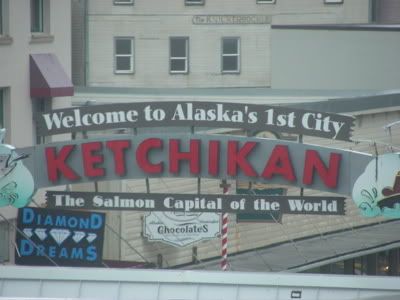 I may have been pre-occupied with having fun to take a lot of pictures of Ketchikan. It was cold and rainy, and I LOVED it.
We stopped at the Hubbard Glacier.
We went around Juneau. First to the Mendenhall Glacier: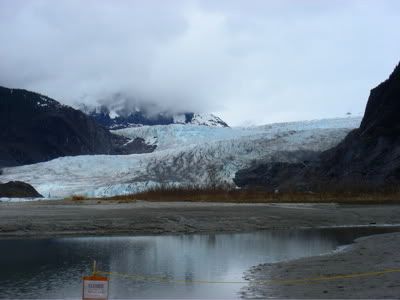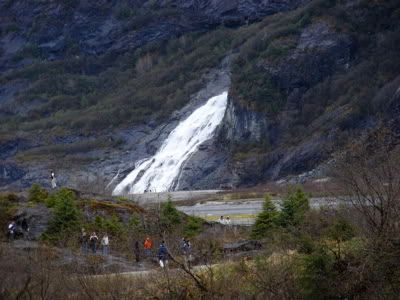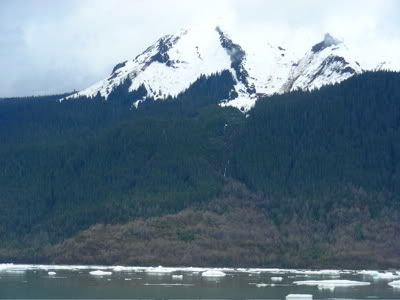 Pretty, huh?
I met my first snowman ever.
He liked my sock.
I was hoping to see some black bears, but only saw this:
Afterwards, we went to Glacier Gardens, and got rained on in the rainforest. In person, I wax poetic about how peaceful and introspective the time I spent there was. Here, you get a picture of our very young (and sporting) tour guides: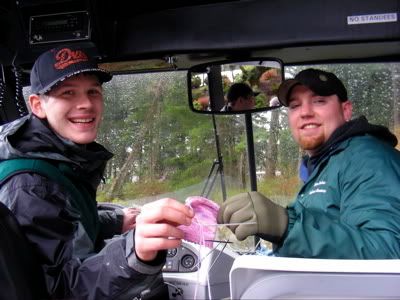 Next, we went to the
Alaskan Brewing Company
. There was beer. I drank jalapeño beer. And six or seven other kinds.
Mmmmm... Foamy!
After sampling some of their brews, we went to dinner at the
Twisted Fish
.
In Victoria, there was
Beehive Yarns
, and the
Canoe Club
. Sorry, no pictures. But, I had some amazing drinks. (There may be a connection between those two.)
There were more upsides:
Meeting so many fabulous people. I really do believe that knitters are inherently interesting and good people.
Amy's husband (Phil) looks hot in his kilt. HOT!
Churchmouse Yarns & Teas
. Nice people, good yarn, GREAT sherry.
Now I just have to wait for my souvenirs to show up in the mail. Mom asked me why I didn't mail my dirty laundry and pack my new yarn.
Clearly, I was having a "pretty but not smart" day. Live and learn, right?